Most Canadians have thought about booking the great Canadian road trip. Taking a trip from coast to coast across our diverse nation.
Embarking on a road trip across Canada is like immersing yourself in a breathtakingly diverse and awe-inspiring journey. There is so much to see and do and there are countless places to stop along the way.
Have you ever wondered what a trip like this would look like? We created a sample of what you could experience.
The starting point of our adventure is Vancouver, British Columbia, nestled on the stunning west coast.
But before we take off on our journey, it's only fitting to put on some Tragically Hip or Stompin' Tom Connors and crank the stereo before taking off.
Vancouver, British Columbia – West Coast Wonders
Surrounded by mountains and the Pacific Ocean, this vibrant city is a paradise for nature lovers and urban explorers alike. Vancouver offers a perfect balance of natural beauty and city charm. Visit Stanley Park, a sprawling urban park that offers stunning views of the city skyline and the nearby mountains. Take a stroll along the seawall or rent a bike to explore the park's lush forests and picturesque beaches. Don't forget to visit Granville Island, a vibrant hub of art, culture, and culinary delights, where you can indulge in fresh seafood and browse through local artisan shops.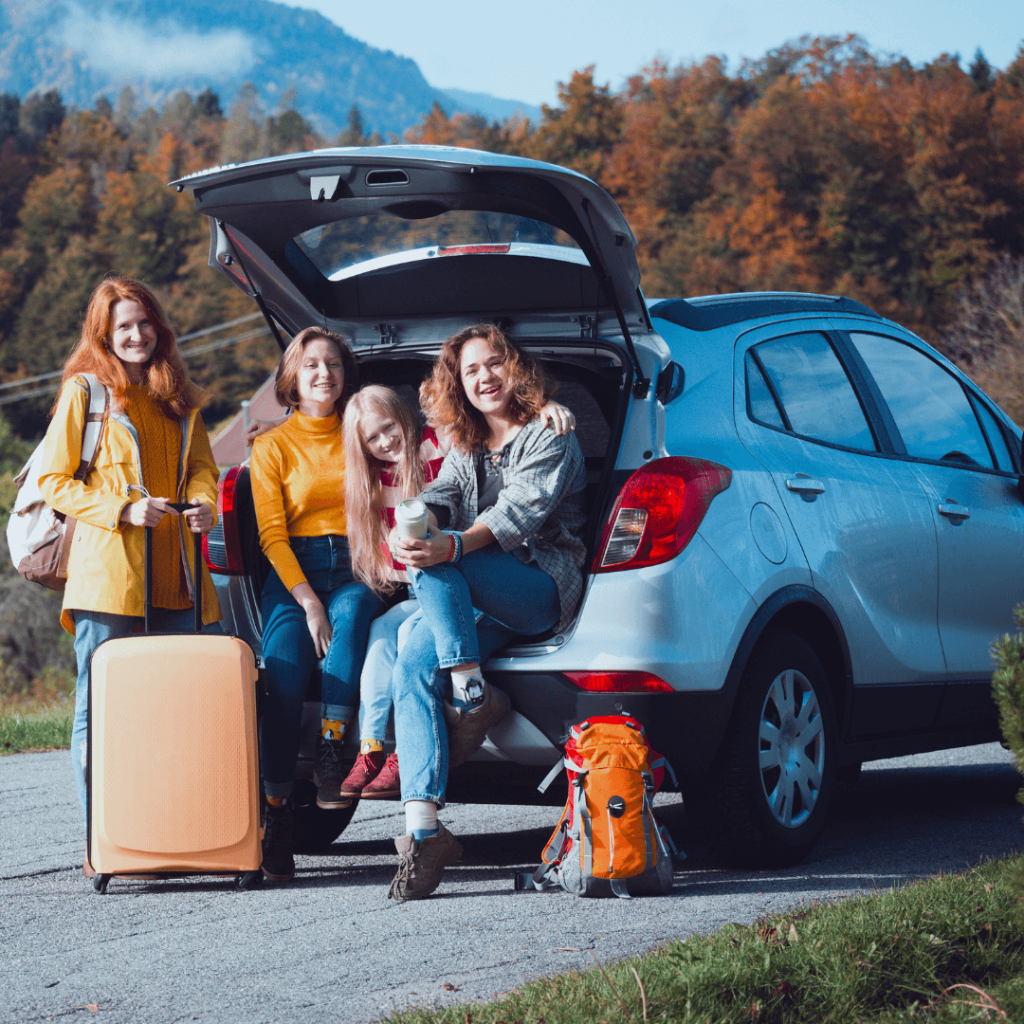 Banff National Park, Alberta – Majestic Rockies and Turquoise Lakes
Continuing our journey eastward, we arrive at Banff National Park in Alberta, nestled in the heart of the Canadian Rockies. This natural wonderland is renowned for its majestic beauty. Banff offers a captivating landscape of towering snow-capped peaks, pristine turquoise lakes, and endless wilderness.
Marvel at the stunning turquoise waters of Lake Louise, surrounded by the imposing mountains. Hike along the trails of Moraine Lake, known for its vibrant blue hue and breathtaking vistas. Don't miss the opportunity to relax in the soothing waters of the Banff Upper Hot Springs, a natural oasis amidst the rugged mountains. Banff National Park truly exemplifies the beauty of the Canadian Rockies.
Travelling on a budget? Here are 7 Exciting & Budget-Friendly Travel Destinations For Canadians
Grasslands National Park, Saskatchewan – Immersed in Prairie Wilderness
As we venture further east, we arrive at Grasslands National Park in Saskatchewan, offering a unique and immersive experience in the vast prairie wilderness. This park showcases the untouched beauty of the Canadian plains and provides a glimpse into the country's rich natural heritage. Here, you can embark on guided hikes or scenic drives to explore the vast expanse of the prairie ecosystem.
Keep an eye out for the diverse wildlife that inhabits the park, including bison, pronghorn, and coyotes. As the night falls, the park's dark skies provide an ideal setting for stargazing, allowing you to witness the wonders of the universe in all its glory. Grasslands National Park offers a serene and awe-inspiring escape into the untouched wilderness of the prairies.
Winnipeg, Manitoba – Gateway to the Prairie Splendor
Our road trip continues eastward, bringing us to the vibrant city of Winnipeg, Manitoba. Situated at the crossroads of the Canadian prairies, Winnipeg serves as a gateway to this breathtaking region. This multicultural city is rich in history, art, and culture. Explore the historic Exchange District, with its well-preserved architecture and vibrant arts scene.
Visit The Forks, a bustling marketplace where the Red and Assiniboine Rivers converge, offering a perfect blend of shops, restaurants, and outdoor spaces. Immerse yourself in Manitoba's rich heritage at the Manitoba Museum or discover the fascinating wildlife at the Assiniboine Park Zoo. Winnipeg showcases the diverse attractions and warm hospitality that the prairies have to offer.
Are you a thrill seeker? Here's Must-Visit Destinations Across Canada For Adventure Seekers In 2023
Toronto, Ontario – Vibrant Metropolis and Cultural Hub
Heading further east, we arrive at the bustling metropolis of Toronto, Ontario. This vibrant city is a cultural hub and home to iconic landmarks and diverse neighbourhoods. Explore the towering CN Tower, offering panoramic views of the city and Lake Ontario.
Wander through the eclectic neighbourhoods of Kensington Market and Queen Street West, known for their vibrant street art, independent boutiques, and diverse culinary scene. Discover the cultural treasures at the Royal Ontario Museum or catch a live performance at the historic Massey Hall. Toronto's cosmopolitan charm and various offerings make it a must-visit destination on any Canadian road trip.
Halifax, Nova Scotia – Maritime Charm and Seaside Splendor
Continuing our journey east, we arrive at Halifax, the capital city of Nova Scotia. This charming coastal city is known for its rich maritime history and stunning waterfront. Explore the historic waterfront boardwalk, lined with shops, restaurants, and museums. Visit the iconic Citadel Hill National Historic Site, offering panoramic views of the city and Halifax Harbour.
Immerse yourself in the local culture by experiencing traditional music and dance at one of the city's lively pubs. Don't miss the opportunity to indulge in fresh seafood, including the world-famous Nova Scotia lobster. Halifax captures the essence of maritime charm and offers a glimpse into the unique culture of the Atlantic region.
Planning your dream vacation? Read A Wealthy Canadian's Ultimate Guide To Planning A Dream Vacation
Saint John, New Brunswick – Bay of Fundy Wonders
Our final destination in this coast-to-coast road trip is Saint John, New Brunswick. Situated along the Bay of Fundy, this city is known for its awe-inspiring tides and natural wonders. Explore the charming uptown area, with its historic architecture, boutiques, and cozy cafes.
Witness the world's highest tides at the Hopewell Rocks, where colossal rock formations emerge from the ocean floor during low tide. Take a scenic drive along the Fundy Coastal Drive, offering stunning vistas of rugged cliffs, sandy beaches, and picturesque fishing villages. Saint John showcases the remarkable beauty of the Bay of Fundy and its unique tidal phenomena.
Embarking on a Canadian road trip is a journey through diverse landscapes, captivating cities, and unique cultural experiences. From the West Coast wonders of Vancouver and the majestic Rockies of Banff to the prairie wilderness of Saskatchewan and the vibrant metropolis of Toronto, and the coastal charms of Halifax and Saint John, each province adds its distinct flavour to this epic adventure. So, pack your bags, hit the road, and prepare to create unforgettable memories as you explore the iconic destinations from coast to coast in the Great White North.