Thinking about moving to Kelowna? Or perhaps visiting? In this Canadian city spotlight, we talk about what it's like to live here.
Nestled in the heart of British Columbia's stunning Okanagan Valley, Kelowna is a Canadian gem that offers a vibrant and fulfilling lifestyle. With its breathtaking natural beauty, thriving economy, and endless recreational opportunities, it's no wonder that Kelowna has become a sought-after destination for people looking to experience the best of what Canada has to offer.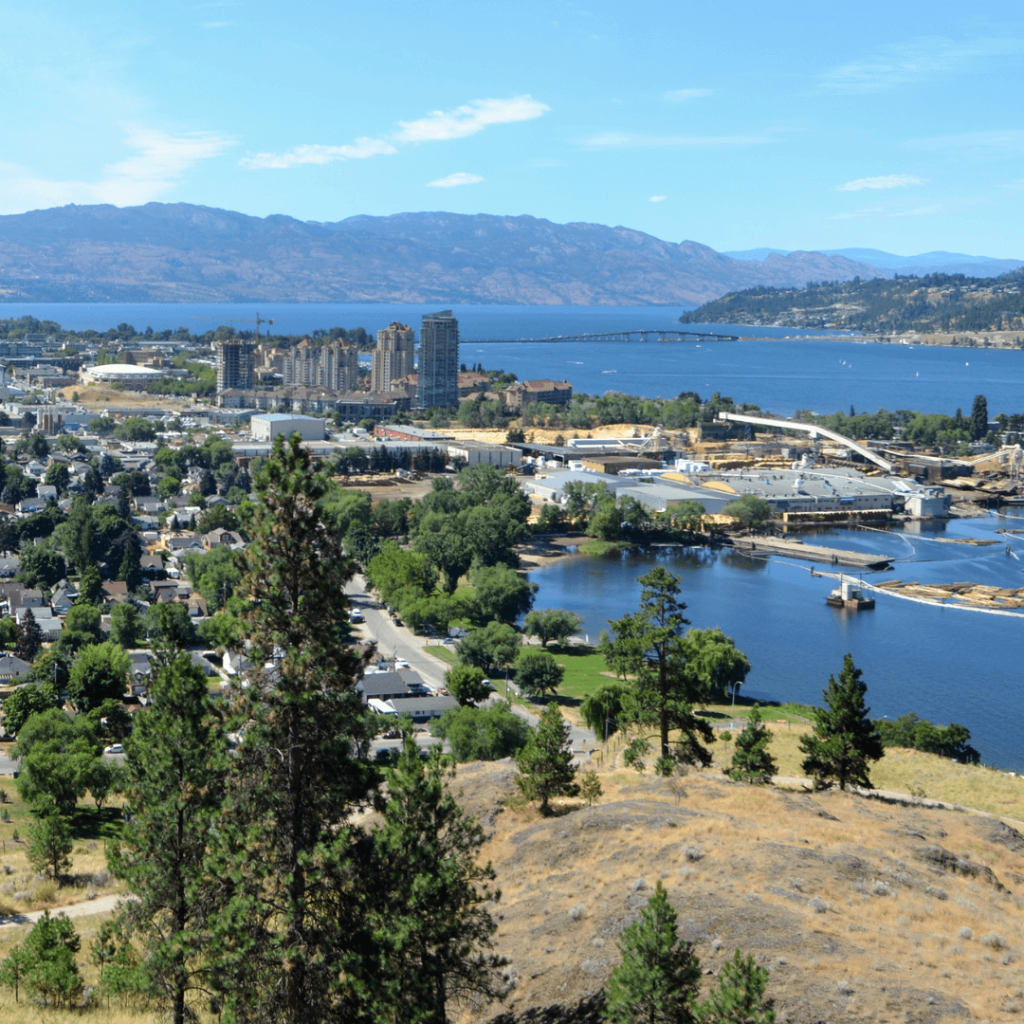 Kelowna is surrounded by natural beauty
One of the first things that strikes newcomers to Kelowna is its picturesque setting. The city is situated on the eastern shore of Okanagan Lake, surrounded by rolling hills, lush vineyards, and snow-capped mountains. The stunning landscapes provide a backdrop for a myriad of outdoor activities year-round, from hiking and biking in the summer to skiing and snowboarding in the winter. Kelowna's residents are spoiled with an abundance of opportunities to explore nature's wonders right on their doorstep.
Read more: The Great Canadian Road Trip: Iconic Destinations From Coast To Coast
Kelowna has a thriving economy
Beyond its natural beauty, Kelowna boasts a thriving economy that contributes to a high standard of living. The city is a regional hub for technology, tourism, and agriculture, with a growing entrepreneurial spirit. Many innovative companies have chosen to establish their headquarters in Kelowna, creating a robust job market and opportunities for professional growth. The city's diverse economy offers a wide range of employment options, from tech startups to wineries and orchards. This economic stability makes Kelowna an attractive destination for both job seekers and entrepreneurs looking to start their ventures.
Kelowna has strong education and healthcare systems
In addition to its economic prosperity, Kelowna is known for its excellent education and healthcare systems. The city is home to several reputable schools and colleges, providing residents with quality education options. Kelowna General Hospital, a state-of-the-art medical facility, ensures that residents have access to top-notch healthcare services. The combination of quality education and healthcare makes Kelowna an ideal place for families and individuals seeking a high quality of life.
Kelowna offers lots of entertainment and leisure activities
When it comes to leisure and entertainment, Kelowna has something for everyone. The city boasts a vibrant art and culture scene, with numerous galleries, theatres, and music venues. Festivals and events, such as the popular Kelowna Dragon Boat Festival and the Okanagan Wine Festival, provide ample opportunities for residents to immerse themselves in the local culture and community. The downtown core is dotted with trendy boutiques, cozy cafes, and farm-to-table restaurants, offering a diverse culinary experience that caters to all tastes.
Check out: Must-Visit Destinations Across Canada For Adventure Seekers In 2023
Kelowna has world-class wineries
Furthermore, Kelowna is renowned for its world-class wineries. The region's warm climate and fertile soil create ideal conditions for grape cultivation, resulting in award-winning wines. Wine enthusiasts can embark on a wine tour, exploring the vineyards and sampling a wide selection of varietals. The wine industry has also contributed to the development of farm-to-table cuisine, with many restaurants emphasizing locally sourced ingredients to create unforgettable dining experiences.
Check out all the wineries in Kelowna.
Kelowna is an outdoor recreation hub
Lastly, Kelowna places a strong emphasis on recreation and healthy living. The city offers an extensive network of parks, trails, and green spaces, encouraging an active lifestyle. Residents can enjoy activities such as boating, golfing, paddleboarding, and swimming during the summer months. In the winter, nearby ski resorts provide world-class downhill and cross-country skiing opportunities. Kelowna's commitment to promoting health and wellness is reflected in its abundance of fitness centers, yoga studios, and wellness retreats.
Life in Kelowna, BC, offers a harmonious blend of natural beauty, economic prosperity, and a vibrant community. The city's breathtaking landscapes, thriving economy, excellent education and healthcare systems, diverse entertainment options, and commitment to healthy living make it an exceptional place to live. Whether you're seeking a fulfilling career, a high quality of life, or simply a place to enjoy the outdoors and pursue your passions, Kelowna is a Canadian city that truly has it all.